Hunts Point Access Improvement Project Phase One is Complete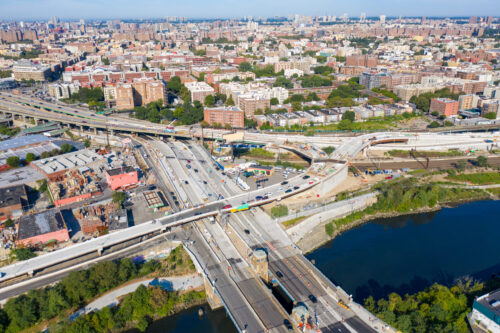 News
"My Administration is laser-focused on creating world-class, 21st-century infrastructure for New York – delivering transformative projects on time and under budget," New York Governor Kathy Hochul said. Phase One of the New York State Department of Transportation's (NYSDOT) $460 million Hunts Point Access Improvement project was part of that initiative, and JMT was proudly part of the talented design-build that delivered this important project to the South Bronx community.
On Monday, October 31, JMT stood alongside our design-build partners, the community, government officials, and other stakeholders as NYSDOT hosted a ribbon-cutting to celebrate the completion of Phase One. This project upgraded and improved access between the Hunts Point Peninsula and the Sheridan and Bruckner Expressways in South Bronx while addressing structural and operational deficiencies in this area. Critical to the project were four bridge crossings of the northeast rail corridor, which includes Amtrak, CSX, and the New York City subway system. The new two-way ramp to Edgewater Road from Sheridan Boulevard will remove thousands of trucks from the local streets daily, improve air quality, reduce noise pollution, and improve safety for motorists. New ramps were installed from the eastbound Bruckner Expressway to Edgewater Road and on Leggett Avenue from the Hunts Point Peninsula to Bruckner Expressway.
"By taking thousands of trucks off local streets each day and giving drivers better access to the Hunts Point Terminal Market, we are improving the South Bronx experience for business owners and residents alike. This project will make our streets safer, connect people to their friends and family, and create greener spaces for the community," Governor Hochul said.
In addition to improved access and safety for motorists, this project also enhanced pedestrian and cyclist access to the Bronx River and recreational opportunities with a new pedestrian bridge over the railroad, community green spaces, and shared-use paths. New safety features included a formal entrance area to the new Garrison Park with a signalized rail crossing and traffic signal, and five security cameras installed along the new path which connects Garrison Park with the existing Concrete Plant Park.
NYSDOT Commissioner Marie Therese Domingez said, "Governor Hochul's unprecedented investments in New York's infrastructure have been truly transformational, creating new opportunities for multiple modes of transportation, reconnecting communities and creating new avenues for economic development. The Hunts Point Access Improvement project exemplifies these principles by creating new access to the Bronx River and new parks and pathways to enjoy it, reconnecting neighborhoods to the water and green space and by taking tens of thousands of trucks a day off local streets and creating direct access to the Hunts Point Market. DOT is working hard every day to deliver this project for the hardworking residents of the South Bronx."
Read more about this project from New York State here. JMT is the lead designer for the Skanska ECCO III HPA Joint Venture team, and we are proud to be part of this transformation for the South Bronx community.
Back to All News