Baltimore Reopens a Greener McKeldin Square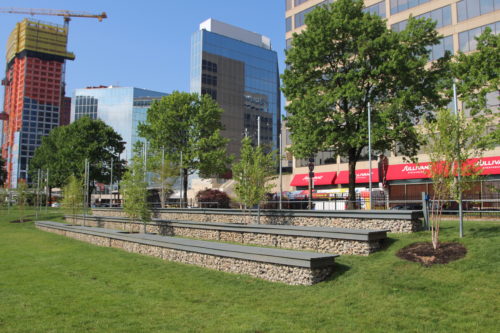 News
August 3, 2017
Location: Baltimore, Maryland
The Downtown Partnership of Baltimore (DPOB), Baltimore City Mayor Catherine Pugh and City Council President Jack Young, along with members of the McKeldin family, unveiled the newly-renovated McKeldin Square near Baltimore's Inner Harbor.
The site – named after former Baltimore Mayor and Maryland Governor Theodore McKeldin – was previously home to a large, concrete fountain that had deteriorated over the years and became too expensive to fix. The DPOB and the City aimed to create a more welcoming area for residents and visitors and increase the amount of usable space. JMT worked with the DPOB to develop an initial demolition study, developed construction documents, acquired permits, and provided construction administration services, to remove two skywalks and, ultimately, the concrete fountain.
JMT worked with DPOB, the Baltimore City Department of Public Works, Department of Transportation, and Planning Department to implement the temporary improvements, which will significantly decrease the pollutant loads discharging into the Chesapeake Bay.
The new McKeldin Square offers a large, green, open space in an urban setting that provides an area to relax, a place to gather, and honors the memory of Mr. McKeldin.
Back to All News