Cherry Tree Lane Spillway Replacement Awarded by ACI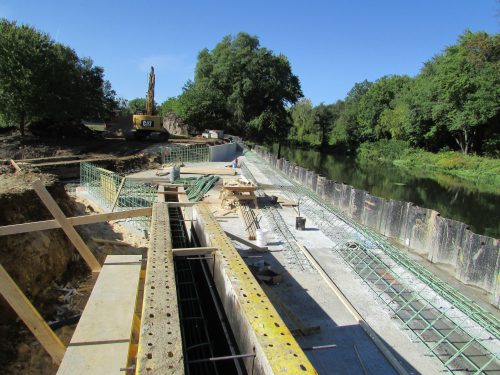 News
June 4, 2018
Location: Lawrenceville, New Jersey
The ACI (American Concrete Institute) recently recognized JMT with a Merit Award, in the repair and restoration category, for the replacement of Cherry Tree Lane Spillway project.
The original spillway, part of the Delaware and Raritan Canal System, was built by the New Jersey Department of Transportation as part of the Route 1 Freeway in the early 1950s and then turned over to the New Jersey Water Supply Authority. In 2014, the condition of the spillway was determined to be unsatisfactory due to severe undermining of the spillway, apron, and water seepage.
JMT prepared the design and construction documents, including a visually and virtually in-kind replacement matching the existing spillway's current footprint and configuration. Permanent sheeting was driven along the front face of the spillway to address seepage issues. The sheeting served as a temporary cofferdam during construction and cut off below the mud line afterward.
Back to All News