ENR MidAtlantic Honors I-95 Deck Rehab Project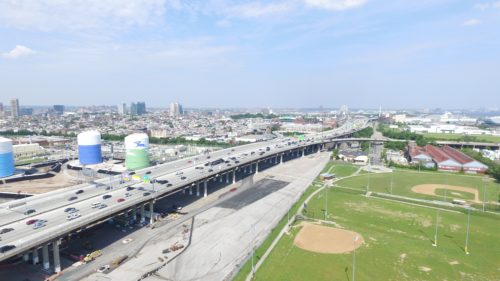 News
JMT construction management staff were among the team members who received an award for "Best Project – Specialty Construction" from ENR MidAtlantic at a ceremony on November 1, 2016. The magazine annually selects outstanding examples of work submitted by agencies and firms in many categories.
The $54.5-million I-95 deck rehabilitation and joint modification project took place on I-95 in Baltimore, just south of the Fort McHenry tunnel, on a section of road with average daily volume of about 250,000 vehicles. A major interchange with I-395 within the project limits handles traffic for downtown, including the area's major sporting and social events. The project involved placement of more than 16,000 CY of latex modified concrete (LMC), making it the nation's largest such rehabilitation awarded as a single contract.
Wagman Heavy Civil was the prime contractor and placed the LMC on 31 bridges, which is expected to increase the bridge decks' service life by more than 20 years. JMT provided the project engineer, office engineer, and several of the construction inspection staff in support of the client, Maryland Transportation Authority. JMT staff oversaw the rehabilitation work on behalf of the Authority and coordinated 47 phase changes for traffic movements, remaining in constant contact with the client and contractor and communicating phase changes to the public.
The team beat the incentive date to finish the work and restore traffic patterns back to their previous configuration, finishing early and within budget.
Back to All News