Kids, School Officials Celebrate Modern Library Renovation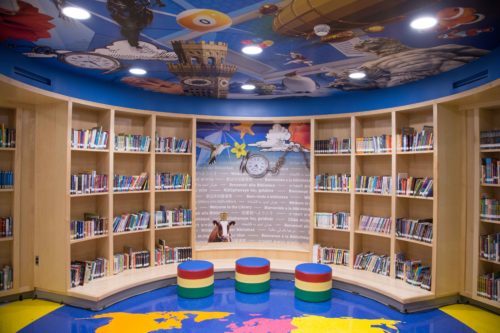 News
October 25, 2017
Location: Baltimore, Maryland
JMT recently attended the grand opening of the library renovation at Francis Scott Key Elementary/Middle School in Baltimore City. Baltimore Mayor Catherine Pugh, Baltimore City Public Schools CEO Dr. Sonja Santelises, and other school representatives spoke at the ribbon-cutting event.
Established in 2011, the Baltimore Elementary and Middle School Library Project is a public-private-partnership of the Harry and Jeanette Weinberg Foundation, Baltimore City Public Schools, and nearly 40 nonprofit and corporate partners. Francis Scott Key Elementary/Middle School is the 14th beneficiary of this collaboration. The Library Project seeks "to transform inner-city school libraries into inspiration spaces, in order to impact educational achievement." Research has shown school libraries can positively affect student learning, especially for at-risk children. Book checkouts have increased 400% in these schools over the first four years, and reading fluency scores show dramatic improvement.
Our team is happy to continue our role as Construction Manager of choice for these crucial projects. To see a video from the grand opening celebration, click here.
Back to All News