New Ped-Bike Trail Opens in Southern Delaware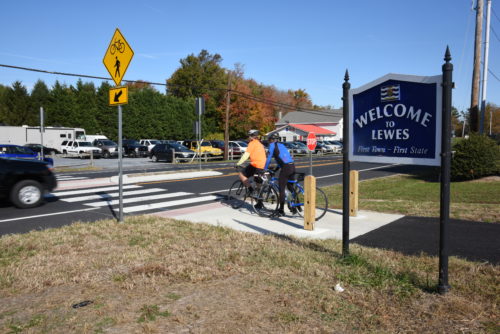 News
JMT staff joined the Delaware Department of Transportation (DelDOT), Delaware Department of Natural Resources and Environmental Control (DNREC), and others at a ribbon cutting ceremony for the Georgetown-Lewes Trail on Oct. 19 in Lewes, DE.
The official opening of the first section of the trail represented a significant milestone in the agencies' joint multi-year effort to redevelop former and active railroad rights-of-way to include bicycle/pedestrian trails. In attendance were Delaware Governor Jack Markell, U.S. Senator Thomas Carper, DelDOT and DNREC leaders, and local politicians.
JMT designed the 1.1-mile section, located in the southeast section of the state. Our services included trail design, trail/roadway crossings design at six intersections, stormwater management, environmental impact analysis and permitting, survey, landscape architecture, and traffic signing/maintenance of traffic.
Our connection to this project spans more than a decade, beginning with work on a statewide rails to trails/rails with trails master plan for Delaware, within which the Georgetown-Lewes corridor was identified as a priority. Following adoption of the statewide master plan, JMT completed a planning study for the entire 17-mile stretch of the area's active rail line before beginning work on the design of the first phase. Once all phases are constructed, Georgetown-Lewes will be the longest trail of its kind in Delaware.
Governor Markell, quoted in a DelDOT press release, said: "Our state's expanding network of walking and bike paths strengthens our communities by providing new recreational opportunities and leverages our spectacular scenic beauty to support tourism and economic development."
DelDOT Secretary Jennifer Cohan said, as quoted in the release: "Completing the first phase of the Georgetown-Lewes Trail is another significant step in our ongoing effort to create viable transportation alternatives to motor vehicle travel. This is especially important in communities such as Lewes where residents, visitors and businesses share a vibrant, historic community that is sensitive to preserving its existing quality of life."
Back to All News