New Rain Gardens Add Green Infrastructure to Montgomery County Schools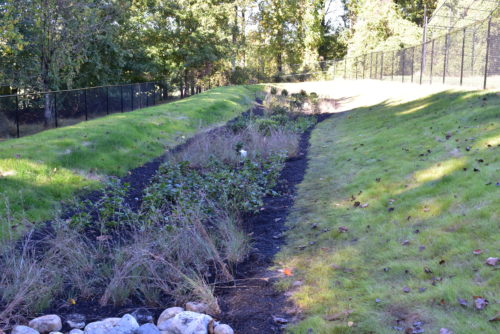 News
October 17, 2017
Location: Montgomery County, Maryland
Montgomery County Public Schools (MCPS) in Maryland recently took a big "green" step in the right direction, celebrating the official opening of rain gardens at several of its schools.
JMT joined Montgomery County Executive Isiah Leggett, MCPS Superintendent Dr. Jack R. Smith, and Montgomery County Department of Environmental Protection (DEP) Director Lisa Feldt at a ribbon cutting on Oct. 17 at Strathmore Elementary School. School officials and fifth grade students at Strathmore cut the ribbon, marking the opening of these bioretention facilities.
Montgomery County chose JMT to implement green stormwater infrastructure for various streets, alleys, parking lots, and schools to assist the DEP in meeting National Pollutant Discharge Elimination System/municipal separate storm sewer system permit requirements to provide stormwater control.  Our staff performed various services, including hydrologic and hydraulic analysis, stormwater design, subsurface utility designation, natural resource inventories/forest stand delineations, erosion and sediment control design, and construction management, inspection, and oversight.
"MCPS is taking steps to reduce its impact on the environment," Dr. Smith said. "These stormwater management projects have been a great way for us to teach our students about the importance of environmental stewardship. We thank the Montgomery County Department of Environmental Protection for their partnership and commitment to engaging MCPS students in efforts to protect our county's critical environmental resources."
Back to All News