PennDOT Celebrates Ribbon Cutting for Chestnut Street Bridge Rehabilitation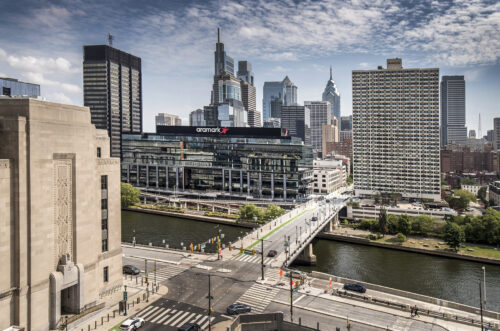 News
JMT joined PennDOT Acting Executive Deputy Secretary Melissa Batula, PE City of Philadelphia Deputy Managing Director Michael Carroll, PE and other local leaders and stakeholders to celebrate the completion of the Chestnut Street Bridge Rehabilitation project in Center City Philadelphia near Amtrak's historic 30th Street Station. A ribbon-cutting ceremony was held on Friday, September 16, at the project site.
JMT served as construction managers for this complex $104 million bridge structure rehabilitation project on Chestnut Street (Route 3) in Philadelphia, PA. The project was part of a multi-project plan to preserve several bridge structures which span the Schuylkill River, Amtrak's northeast corridor, freight lines, and the highly popular Schuylkill River Trail and connect Philadelphia's Center City and University City Districts. "We work closely with the city to make investments that will help residents' and visitors' travel experience less stressful," said Batula. "We're working hard to connect our communities, help you get around more easily, and of course, increase our safety."
"It gives me great pride to represent the department and to recognize the tremendous amount of hard work and dedication that went into this very highly-coordinated, highly-complex and highly-critical project to improve Chestnut Street," said PennDOT District 6 Executive Lou Belmonte, PE.
Improvements were focused on rehabilitating the existing steel and stone masonry structures. Rehabilitating the Chestnut Street Bridge structures between 23rd and 34th Streets included steel repairs, expansion dam replacements, bearing resetting, pedestal repairs, latex concrete modified concrete overlay, and steel painting.
During construction, JMT staff coordinated with Amtrak, CSX, the Southeastern Pennsylvania Transportation Authority, City of Philadelphia Department of Streets, Philadelphia Parking Authority, building, tenant stakeholders, and universities near Amtrak's 30th Street Station, including Drexel University and the University of Pennsylvania.
Back to All News