SEPTA Breaks Ground on Tasker-Morris Station ADA Project in Philadelphia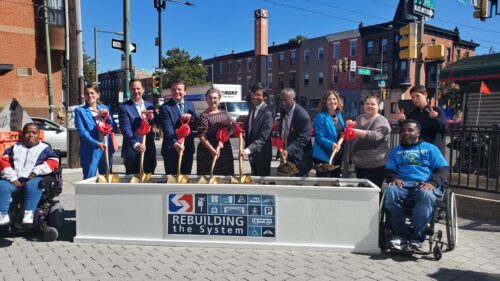 News
Southeastern Pennsylvania Transportation Authority (SEPTA) recently hosted a groundbreaking ceremony for the $19 million Tasker-Morris Station ADA project. JMT joined SEPTA, state and city officials, and representatives of community groups to celebrate this investment in the community.
"Accessibility of the Market Frankfort Line and Broad Street Subway will benefit nearly half a million riders, predominantly and historically disadvantaged and marginalized populations living within a half mile of these stations," stated Leslie Richards, SEPTA's general manager and CEO. SEPTA is one of the largest transit systems in the United States, serving five counties in the Greater Philadelphia area and connecting to transit systems in Delaware and New Jersey.
This $19 million project is part of SEPTA's ongoing initiative to modernize stations to provide accessible and equitable public transportation to the city. Leslie Richards also noted that "SEPTA is committed to making the Market Frankfort Line and Broad Street fully accessible over the next decade."
JMT is completing work on this project under our third consecutive general engineering consultant contract with SEPTA. Work includes modifications for new elevator access, one new stair, and renovations to existing stairs throughout as well as restrooms, fare line reconfiguration, and communications systems. The design team held multiple community meetings to highlight the project's community benefits.
JMT is proud to be part of this effort as the lead designer for the Tasker-Morris Station project.
Watch a recap of the groundbreaking ceremony from SEPTA News here.
Back to All News