Trenchless Sewer Tunneling Project Featured in National Publication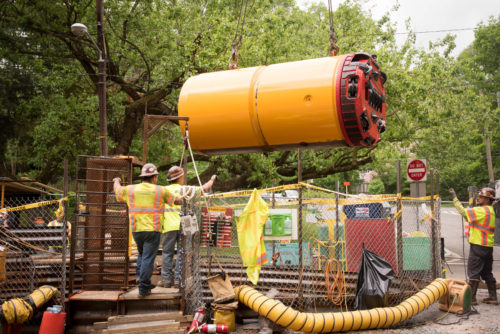 News
December 18, 2017
Location: Washington, D.C.
JMT water/wastewater engineering staff provided preliminary and final design services for more than 4,300 LF of 24-inch diameter replacement interceptors adjacent to and through Washington, DC's Rock Creek Park, which is administered by the National Park Service (NPS).
The project is noteworthy for a single, 1,866-foot tunnel drive, completed by our contractor partner Bradshaw Construction and featured in Trenchless Technology magazine.
The intent was to eliminate the rehabilitation of an existing sewer system within a sensitive environmental area, while replacing the sewer systems in paved roadways on Oregon Avenue, NW and Bingham Drive, NW.
More than half of the project length was designed for trenchless microtunneling boring machine (MTBM) methods for deep segments within rock layers and culvert crossing sections. Bradshaw's tunneling effort exceeded any previous single steel-casing bore east of the Mississippi River.
Trenchless Technology is a leading publication in the underground construction market for more than 25 years, and a go-to source for the latest worldwide trenchless innovations, technology, expertise, and news.
Click here to read the article.
Back to All News