Wampum Borough Bridge Honored in National Steel Bridge Alliance Awards Competition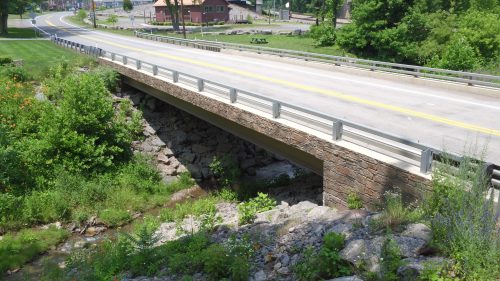 News
The SR 288 accelerated bridge construction project in Wampum Borough, PA was recognized in the June issue of Modern Steel Construction magazine, published by the American Institute of Steel Construction (AISC), for winning the Accelerated Bridge Construction Commendation in the Short Span category for the National Steel Bridge Alliance (NSBA) Prize Bridge Awards competition.
JMT was challenged by PennDOT District 11-0 to design a replacement bridge using ABC techniques so there was minimal disruption to the community. Using these techniques, we developed a cost-effective structure that could be completed in less than a month and would minimize the impacts of the bridge closure. JMT was able to provide an aesthetically pleasing bridge, designed the grading for the surrounding area for picnickers and tent campers, and provided an alternate barrier type to allow people crossing the bridge to see the waterfall upstream of the project. The residents of Wampum Borough were happy with the short construction period and pleased with the look of the new bridge.
The awards competition, held every two years, recognizes the best and most innovative structural steel bridges in the country.  Award-winning projects are selected by a jury of five bridge professionals based on innovation, aesthetics, and design and engineering solutions.
Click here to read the article (pages 32-33).
Back to All News