DCA River Rescue Boat House 
DCA River Rescue Boat House 
JMT designed a boathouse to store and support Potomac River emergency rescue boats.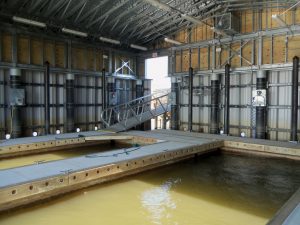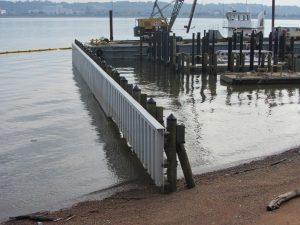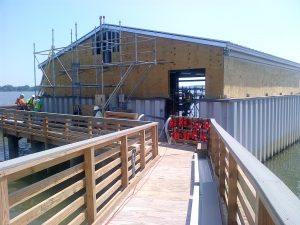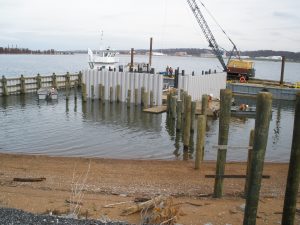 JMT developed the complete design of a boathouse on the Potomac River at Ronald Reagan Washington National Airport. The structure will house two rescue boats, commanded by the Airport Emergency Team, to assist in case a rescue on the Potomac River is needed.
The building consists of steel roofing on light gauge metal trusses, steel-framed walls with composite siding, and a storm protection system comprised of vinyl sheet piling and fiber-reinforced polymer beams. Walls and roof are supported by steel piles driven into the river bottom. The assembly contains a concrete floating dock system with steel guide-piles and an articulating aluminum gangway.
A protective breakwater has been constructed upstream from the boathouse to deflect floating debris and ice. It consists of vinyl sheeting on pressure-treated timber beams and wood piles.
Access is provided by a pier comprised of composite decking on timber framing and wood piles. The pier slopes gently from the airport perimeter road down to a dock supporting the gangway to the boats.
JMT conducted research on historic water levels and considered wave climate and river current forces while designing the building piles and storm-face walls as well as the breakwater protection system. A bathymetric survey was performed to establish the best possible location in the river.