Paper Mill Road Bridge
The new Paper Mill Road Bridge is a 670-foot-long structure, including a 495-foot steel box arch span that spans the Loch Raven reservoir.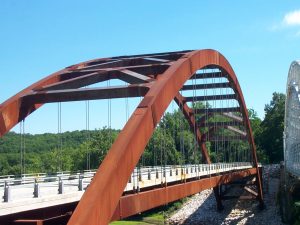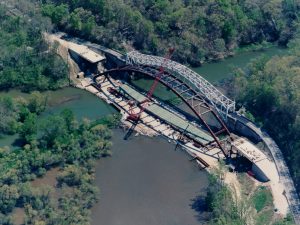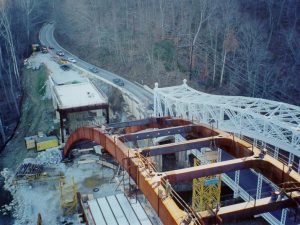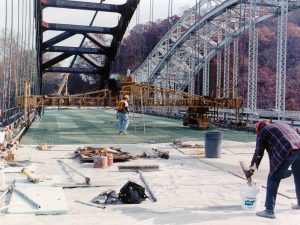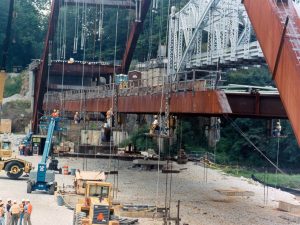 Paper Mill Road (MD 145) crosses the Gunpowder Falls within one of Baltimore's major watersheds, the Loch Raven reservoir. The existing bridge at this location is a well-known landmark; the distinctive arch truss designed early in the 20th century is one of a limited number of examples of steel bridges modeled after the Hell's Gate Arch in New York City and three-hinged arch bridges within Maryland. Unfortunately, local site conditions prevented the bridge from adapting to the traffic needs that increased over time. In addition, the bridge reached an advanced state of deterioration by the end of the century.
JMT evaluated various options involving rehabilitation and replacement in the preliminary engineering stage. Once our client determined the best solution to be the construction of a new, more functional bridge next to the existing bridge, JMT began the final design phase to create a signature structure.
JMT's construction management staff also played an important role in this successful project by providing on-site construction management and inspection services throughout closeout.
The new bridge is a grand complement to the older bridge. The new, 670-foot-long structure is located 99 feet above the reservoir and approximately 25 feet north of the older bridge. A 495-foot steel box arch span spans the reservoir, thereby eliminating impacts to the waterway as well as minimizing other environmental impacts.
The new Paper Mill Road Bridge is a perfect companion to the existing historic structure, creating a striking overall appearance for this well-traveled yet environmentally sensitive area. Motorists now benefit from an improved alignment with milder approach roadway curves.
JMT received numerous national and regional awards for excellence, in recognition of the outstanding design and innovative construction of this project, including:
American Road & Transportation Builders Association (ARTBA) – Transportation Development Foundation's "Globe Award"
National Steel Bridge Alliance Prize Bridge Award, Long Span Category
Outstanding Civil Engineering Achievement Award, American Society of Civil Engineers – Maryland Section
National Recognition, American Council of Engineering Companies
Merit Award, American Council of Engineering Companies-Maryland
Contractor of the Year Award, American Public Works Association, Virginia – DC – Maryland Chapter