Queenstown Streetscape
JMT designed resurfacing and safety improvements for MD 456A, the gateway into a 300-year-old, historic town.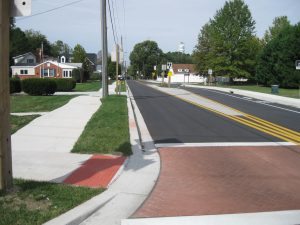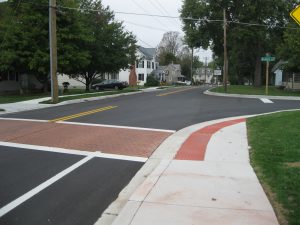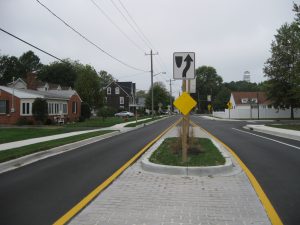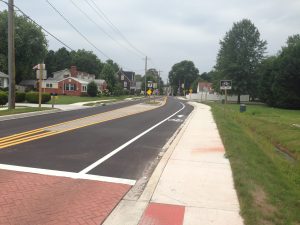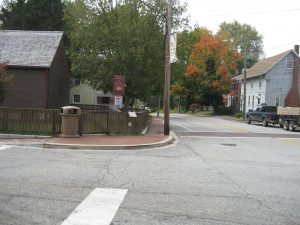 The Queenstown Streetscape (MD 456A) completed a vital gateway into the historic center of this Maryland Eastern Shore town. MD 456A, the community's main ingress/egress point from US 301 to MD 18C, had fallen into disrepair. In anticipation of the town's 300th anniversary, the Queenstown government sought assistance from the Maryland State Highway Administration (MSHA) District 2 office for improvements to revitalize the roadway infrastructure, approximately one-quarter mile in length. MSHA engaged JMT to complete the final design.
It was important to Queenstown and the MSHA that design elements should mimic the improvements previously completed along Main Street. To accommodate the request, the existing brick sidewalk was extended to Wall Street to accentuate the beginning of Queenstown proper. In keeping with historic design elements, synthetic stamped asphalt in a grey cobble pattern was used around a median island, similar to the stamped grey cobble concrete used previously at the town post office. The synthetic stamped asphalt was chosen over traditional stamped concrete due to its quick installation for maintenance of traffic purposes.
The new roadway provides increased safety for pedestrians and bicyclists. New crosswalks help to serve pedestrians and also act as traffic calming measures. A new, four-foot bike lane was provided on the north side of MD 456A, and 'Share the Road' bike signs raise awareness of safety for bicyclists.
Most of the project's complexity involved designing around existing utilities. The horizontal alignment was set to avoid impact to six existing utility poles; a 3.5-foot grass buffer was provided between the curb and sidewalk for the utility poles. An existing, underground water main that was recently constructed by the Town also needed to be avoided. The closed drainage system utilized non-standard modified offset cog inlets to avoid vertical impacts to the existing water main. Other complexities involved ADA upgrades at the Queenstown post office, where an integral concrete curb had to be placed around the foundation of the building and doorway to re-grade the brick sidewalk and meet ADA compliance. The project created an attractive gateway to the Queenstown community, which drivers notice first as they exit US 301 onto MD 456A, helping to strengthen the local economy.
JMT's context-sensitive design encourages the community to be active, drives new business to the area, and incorporates sustainable elements. The public sees this new roadway when exiting US 301, which entices visitors to travel further west on MD 456A into Queenstown proper. The increase in visibility and traffic also has the potential to yield economic benefits from locals and tourists passing through the area.