Underwater Inspection of Glimmer Glass Bridge Construction Repairs
Underwater Inspection of Glimmer Glass Bridge Construction Repairs
JMT completed underwater inspection for a historic New Jersey bridge.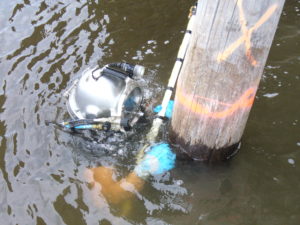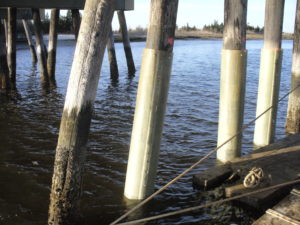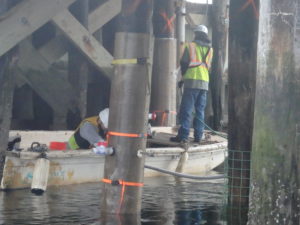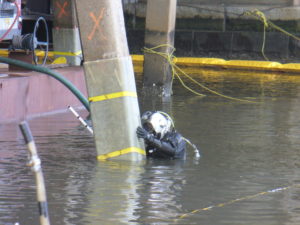 The Glimmer Glass Bridge in Manasquan, NJ is a historic timber cable lift bascule bridge. The bridge was closed due to severe deterioration of the substructure and significant damage sustained from an overloaded truck. JMT performed the underwater inspection of the pile repairs for the design engineer. The deteriorated timber piles were reinforced with epoxy-coated rebar and wire mesh before being encased with epoxy-filled fiberglass jackets; a total of 34 piles repaired. JMT performed an initial "swim-by" inspection of all the piles to confirm pile deterioration and condition assessment. JMT returned once a week throughout a six-month period to perform inspections of the ongoing pile repairs.
Coordination with the contractor and designer was critical for inspections to occur at the proper times. Onsite meetings were held with the client to go over the goals and scope of the day. Upon completion of the inspection services, a brief meeting was held informing the client of any discrepancies in the repairs. Notes and photographs documenting work done on each individual pile repair were part of our deliverables to the client. The entire worksite was in an active marine navigable waterway, and communication with the United States Coast Guard, local marine police, and the bridge operator was very important.