Stronger Together
JMT and Vaughn & Melton (V&M)
JMT and Vaughn & Melton (V&M) have combined and are now stronger together!
JMT, ranked number 60 among the Engineering News-Record Top 500 Design Firms, provides engineering, architecture and related consulting services to a variety of clients in the public and private sectors. While V&M has a significant presence across the Southeast United States including Kentucky, Tennessee, North Carolina, South Carolina, and Georgia, providing many of the same civil engineering and surveying services as JMT.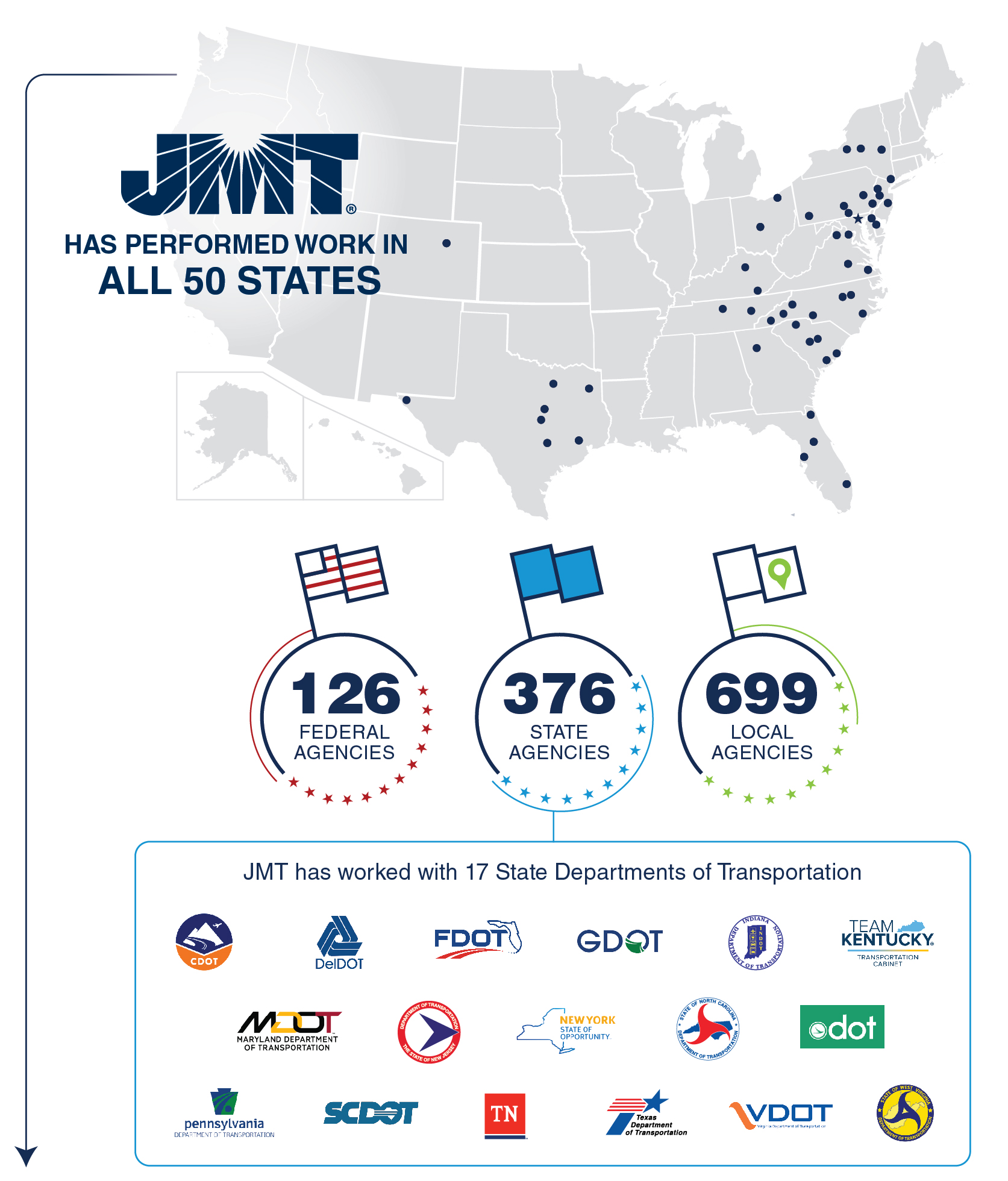 JMT Office Locations
COLORADO
Denver
DELAWARE
Dover
Newark
DIST. OF COLUMBIA
Washington, D.C.
FLORIDA
Fort Lauderdale
Jacksonville
Lake Mary
Tampa
GEORGIA
Kennesaw
KENTUCKY
Lexington
Middlesboro
MARYLAND
Hunt Valley (HQ ★)
NEW JERSEY
Newark
Trenton
NEW YORK
Albany
New York
Syracuse
Utica
NORTH CAROLINA
Asheville
Charlotte
New Bern
Raleigh
Sylva
Winston-Salem
OHIO
Cleveland
Columbus
PENNSYLVANIA
Allentown
Fort Washington
Harrisburg
Philadelphia
Pittsburgh
York
SOUTH CAROLINA
Charleston
North Charleston
Columbia
Spartanburg
TENNESSEE
Brentwood
Johnson City
Knoxville
TEXAS
Austin (Round Rock)
El Paso
Houston
Longview
McKinney
San Antonio
Shiner
VIRGINIA
Herndon
Richmond
Virginia Beach
JMT and V&M Combined Services
Architecture & Interior Design
Bridge Inspection
Diving & Underwater Inspection
Environmental & Sustainable Solutions
Facility Condition Assessment
Design-Build
Road & Highway Design
Coastal Engineering
Traffic Planning & Engineering
Water/Wastewater
Mechanical/Electrical/Plumbing
Civil Design
Community Engagement
Construction Engineering Inspection
Right-of-Way Acquisition
Landscape Architecture
Geotechnical
Information Technology
Transportation Planning
SmartCampus
Structures
Subsurface Utility Engineering
Surveying & GIS
Community Planning
Urban Design
Sustainability Plans
Capital Programming & Grant Writing
Program & Construction Management
Transportation
Utility Coordination
Water Resources
Commissioning
Project Controls
Utilities Engineering