Improved MD 404 Opens on Maryland's Eastern Shore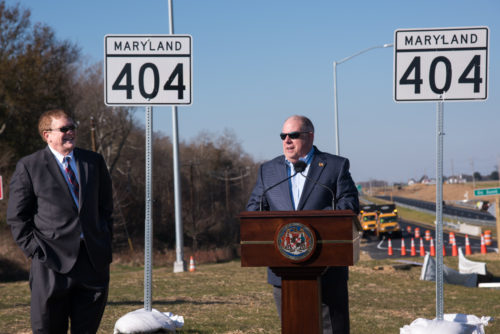 News
November 20, 2017
Location: Queen Anne, Maryland
The JMT project team joined Maryland Governor Larry Hogan, area residents and officials, as well as local business leaders for a ribbon-cutting ceremony of the upgraded MD 404 corridor principal arterial on Nov. 20. The long-awaited improvements to this principal arterial on Maryland's Eastern Shore opened just before the Thanksgiving holiday, bringing a safer roadway for locals and tourists.
MD 404 connects US 50 (Ocean Gateway) and the Denton Bypass in Talbot, Queen Anne's, and Caroline counties, serving commuters traveling to and from the Delmarva region. The roadway experiences high traffic volumes during the summer beach season. Today, 16,400 vehicles travel along MD 404 daily, with more than 20,150 vehicles each day during the summer, according to the State. By 2035, that number is expected to increase to 21,900 vehicles a day, and up to 26,900 vehicles during the peak summer season months. A tragic consequence to the increased traffic, however, has been a high number of vehicle collisions, fatalities. Because of this, the design-build project was made a priority and put on a fast-tracked schedule.
"For decades, improvements to this vital corridor were slow to move forward, and our administration heard your calls loud and clear," Governor Hogan said at the grand opening. "With the completion of the MD 404 upgrade, our administration is proud to deliver on the number one priority for Queen Anne's, Talbot, and Caroline counties – complete and a year and a half ahead of schedule."
JMT designed the western segment of the new four-lane divided highway as well as all the geotechnical design for the entire length of the project, approximately 11.3 miles. Our team also provided roadway, maintenance of traffic, and phasing design; structure design; hydraulic design; stormwater management, drainage, and erosion and sediment control design; wetland mitigation design; landscape architecture design; and construction phase services.
Back to All News