New Back River Headworks Facility to Reduce Chesapeake Bay Pollution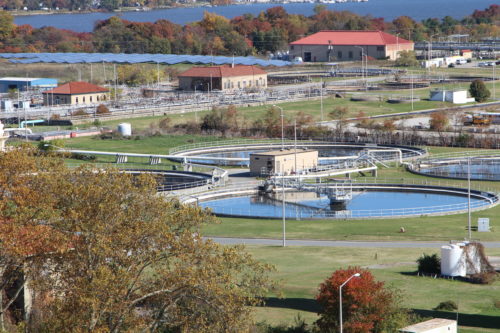 News
August 10, 2017
Location: Baltimore, Maryland
Construction has officially begun on the $430-million headworks project at the Back River Wastewater Treatment Plant in Baltimore. JMT, lead designer, joined Maryland Governor Larry Hogan, Senator Ben Cardin, Baltimore City Mayor Catherine Pugh, and Baltimore County Executive Kevin Kamenetz on Aug. 10 for the groundbreaking ceremony.
As part of the consent decree program, Baltimore developed a system-wide hydraulic model that predicts wastewater flows into the Back River plant. Based on these modeling results, current peak wet weather flows significantly exceed the plant's hydraulic and treatment capacity.
JMT performed an assessment of the hydraulic and treatment capabilities of the plant and designed improvements to increase the capacity of the headworks facilities to handle the predicted wet weather flows.
A goal of the new facility is to unclog a 10-mile-long sewage backup currently in the system and reroute the wastewater to the plant for treatment, which will reduce the likelihood of sewage spills into streets, homes, and, ultimately, the Chesapeake Bay.
"Once completed, this project will reduce nitrogen in the Bay by more than 1.8 million pounds per year, which is critical to meeting our Chesapeake Bay pollution reduction goals," Governor Hogan said at the event.
Back to All News