New rabbittransit Headquarters Offers More Space, Sustainable Features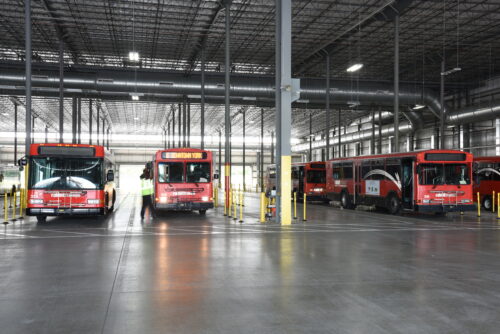 News
The Central Pennsylvania Transportation Authority (rabbittransit) opened its new headquarters and bus maintenance facility with a ribbon cutting ceremony on Oct. 13, 2016. The event was attended by rabbittransit staff and its board of directors, community leaders, and JMT team members.
JMT assisted rabbittransit over several years, beginning by helping identify and evaluate various sites and site alternatives for the new headquarters. We provided the overall planning, permitting, and design of the new facility, including project management, topographic surveys, environmental services, architectural design, site/civil engineering, structural engineering, mechanical and electrical engineering, and landscape architecture. We also provided construction consultation services during the 15-month construction period.
The renovated facility includes administration spaces, bus maintenance space, and indoor bus storage for the entire fleet. The building also includes energy efficient elements, including LED lighting and energy recovery units, as well as HVAC and other special systems to ready the facility for fueling, storage, and maintenance of future buses.
Back to All News