rabbittransit Celebrates Ribbon Cutting for New King Street Station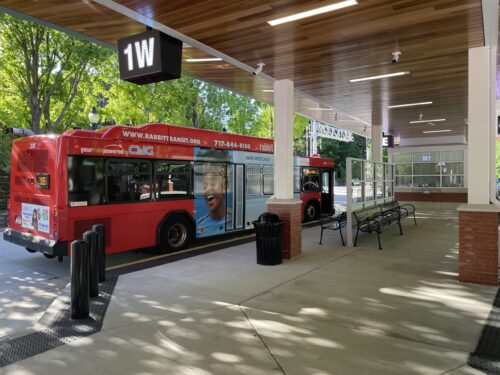 News
Monday, May 16, 2022 was an exciting day for our longstanding clients, rabbittransit and PennDOT, as local leaders and JMT staff gathered to celebrate the opening of the new King Street Station in the City of York, PA.
rabbittransit is a Pennsylvania regional public transportation provider which serves more than 8,000 people a day. It offers a variety of transportation services to the residents of Adams, Columbia, Cumberland, Franklin, Montour, Northumberland, Perry, Snyder, Union, and York Counties.
The JMT team planned, conceptualized, and designed the King Street Station renovations. This $3 million project set out to improve station safety and amenities to better serve passengers and support rabbittransit staff at the city's fixed route hub.
"This is the epicenter of so much more that is going on right now particularly with the bike trails and with the ability of pedestrians, bikers and even other commuters to come here and use this as a central location to reach so many other destinations," said York Mayor Michael Helfrich.
Design features included opening site lines with a more efficient and straightened center island structure layout, a reconstructed ticketing office, restroom facilities, and a small break area for staff/drivers. The design provided direct pedestrian and bike connections to the adjacent York County Heritage Rail Trail and provisions for a future bike station. Enhancements included improved site lighting, and additional creek side passenger and bike shelters. The center island passenger waiting area was reconstructed to include a new taller roof and ceiling for long-term durability, reduced maintenance, and to accommodate taller compressed natural gas buses. JMT provided overall project management, civil, landscape architecture, structural, and mechanical/electrical/plumbing design from initial planning and concepts through final construction documents, permitting, bid administration and award, and construction consultation.
Watch the full transformation of this bus transfer station on rabbittransit.org.
"As we continue working toward enhanced mobility, King Street Station will play an important role in ensuring riders are able to be better connected to the essential services necessary to live their best lives," said rabbittransit Executive Director Richard Farr.
JMT has held open-end contracts with rabbittransit since 2002 and looks forward to continuing to help the agency serve the public.
Back to All News