Sligo Creek Project Recognized in 2018 PCA Concrete Bridge Awards Competition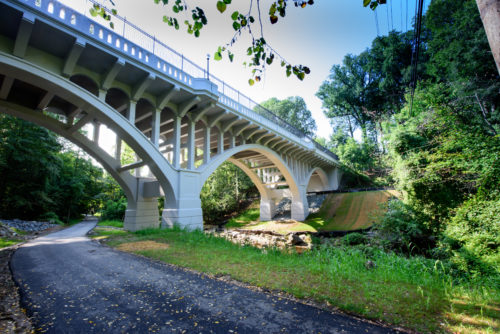 News
September 28, 2018
Location: Takoma Park, Maryland
JMT's work on the MD 195 bridge over Sligo Creek in Takoma Park, MD recently received a 2018 Bridge Design Award of Excellence from the Portland Cement Association (PCA) and Roads and Bridges magazine. The Sligo Creek project was one of eight national winners to receive an Award of Excellence.
The Concrete Bridge Awards Competition recognizes the "creativity and imagination in the structural, functional, aesthetic, sustainable and economic design of concrete bridges, as well as consideration for innovate construction method," according to the organization. PCA "is the premier policy, research, education, and market intelligence organization serving America's cement manufacturers."
The MD 195 bridge, constructed in 1932, is a three-span, 224-foot-long structure spanning Sligo Creek Parkway, Sligo Creek, and the Sligo Creek Trail in Montgomery County. The Maryland State Highway Administration (SHA) determined that the open spandrel-reinforced concrete bridge required reconstruction, but reconstructed in place, 50 feet above a ravine, as the structure is historically eligible and a priority for preservation. It was crucial for the bridge to maintain its character, and therefore was reconstructed from the arch rings up.
JMT performed an in-depth field inspection assessment and prepared contract documents for the rehabilitation. Work included the structural design and plans for replacing the entire portion of bridge above the main arch rings, as well as repairs to portions of the existing structure that would remain.
Back to All News