Thomasson Barn Road Opens in VA with Ribbon Cutting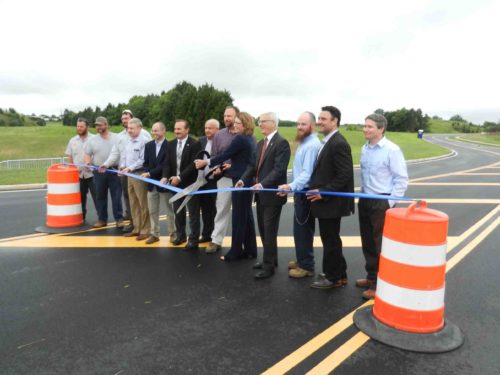 News
JMT staff, along with the Prince William County Department of Transportation, Prince William County Department of Public Works, and local politicians, celebrated the official opening of Thomasson Barn Road with a ribbon cutting ceremony on June 13, 2019.
JMT provided turnkey services, including surveys all the way through construction on the high-profile, $3 million project. Thomasson Barn Road is a 1,600-foot, two-lane urban roadway in the Innovation Park in Manassas, VA. The Innovation Park is 1,500-acre corporate research site anchored by George Mason University Science and Technology campus. The roadway provides a much-needed connection for development within the park, including a new COPT Data Center and 2 Silos Brewery in the renovated historic Thomasson Barn, for which the road was named.
Brentsville District Supervisor Jeanine Lawson said she was glad the 1,600-foot road is finished. "It is good to see Thomasson Barn Road come to fruition on time and budget. With the addition of new office space, and the growing popularity of 2 Silos-Farm Brew Live, traffic in this portion of Innovation Park is increasing daily. By opening a second access point here, the county ensures that traffic will move smoothly as additional businesses locate here."
This project grew from an initial smaller task performed under our on-call for Prince William County for the Innovation Park. JMT survey staff performed boundary and topographic surveys to create a new parcel of land from a 120-acre tract within the Innovation Park business for the brewery site. From this task, JMT performed a preliminary study of an access road from the terminus of Discovery Boulevard to the new development, then completed design plans for the two-lane access road to the brewery.
JMT was asked to next develop the plat for the larger sale of land for the COPT Data Center. With this large development coming online, Prince William County requested JMT develop the design for the construction of Thomasson Barn Road to provide access for construction of the COPT Data Center and provide connectivity for the back half of the Innovation Park including the 2 Silos Brewery.
Back to All News