Back River Wastewater Treatment Plant Headworks Improvements
Back River Wastewater Treatment Plant Headworks Improvements
JMT provided engineering design services, construction support services, and commissioning support services for a new, 600 MGD headworks facility at the Back River wastewater treatment plant.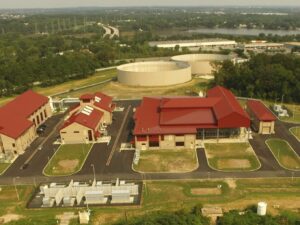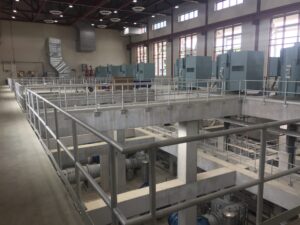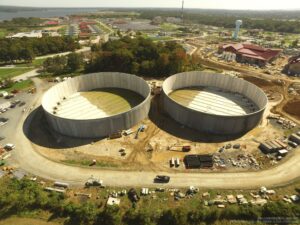 The Back River headworks improvements project is the cornerstone of the City of Baltimore's comprehensive wet weather management plan and Federal consent decree commitments to eliminate 83% of sanitary sewer overflows (SSOs).
JMT served as the lead designer on a project team that included nine consulting engineering firms. The project included the design of three large buildings – an 800 million gallon per day (MGD) coarse screen and influent pumping station, a 600 MGD fine screen facility, and a 600 MGD grit removal facility – and two 50-foot-tall, 260-foot-diameter wet weather storage tanks. The team provided the design of all ancillary and supporting systems for the new wastewater treatment facilities including foundation systems, roadway, grading, site utilities, power supply, odor control, and environmental site features. To meet the City of Baltimore's Federal consent decree commitments, the team prepared bid documents, including approximately 1,500 drawings, in 15 months.
JMT supported the City through construction and commissioning as the $430 million headworks project was delivered as the City of Baltimore's first project under the Construction Manager-at-Risk (CMAR) model. This cooperative principle facilitated successful completion of one of the largest construction projects for the City of Baltimore's Department of Public Works during challenging periods such as the wettest year on record for Baltimore in 2018, a ransomware attack on City government in 2019, and the COVID-19 pandemic. The project was completed on time and within budget through CMAR. Construction required more than 1.5 million personnel-hours and, during the peak of the project, there were 380 construction personnel on site.