Green Stormwater Infrastructure at Wissinoming Park
Green Stormwater Infrastructure at Wissinoming Park
JMT developed a centralized, green stormwater infrastructure facility to improve water quality and reduce combined sewer overflows.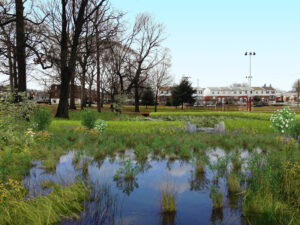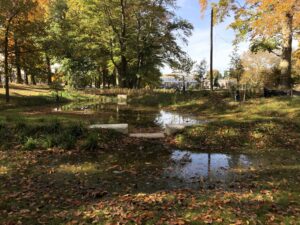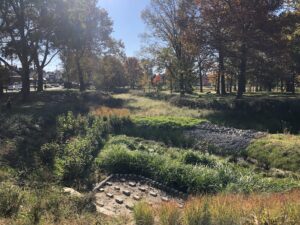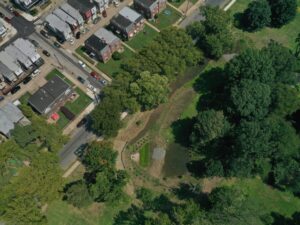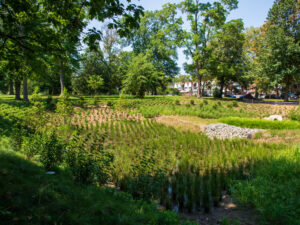 The Philadelphia Water Department's (PWD) Green Stormwater Infrastructure (GSI) Unit initiated the planning, design, and implementation of GSI at Wissinoming Park, located in northeast Philadelphia, as part of its Green City, Clean Waters (GCCW) program. GCCW is a 25-year plan to reduce the volume of stormwater entering combined sewers using green stormwater infrastructure. The centralized GSI facility at Wissinoming Park was designed by JMT to manage up to the first two inches of rainfall runoff from over 20 acres of existing impervious area collected by a GSI sewer system constructed within the surrounding neighborhood.
Wissinoming Park, operated by Philadelphia Parks and Recreation, is an expansive neighborhood park encompassing over 40 acres of land. Historically, the park was part of a privately owned estate which included two headwater tributary streams and a variety of rare trees imported from all over the world. JMT's innovative sloping wetland design maximizes environmental resiliency and diversity by restoring a historic stream valley within the park. The sloping wetland brings a unique look to the park, increases biodiversity, provides educational/recreational opportunities, and restores functions and values of the historic stream valley which were removed during urbanization. The construction of GSI sewers and ADA ramps in the neighborhood drastically improve drainage and access within the public right-of-way. Overall, the design improves public safety and provides numerous environmental, social, and economic benefits while maximizing stormwater treatment.
GSI at Wissinoming Park is a marquee project for the GCCW program, showcasing PWD's successful implementation of their overall programmatic strategy from planning and design through construction. The centralized GSI facility at Wissinoming Park is the largest and first of its kind implemented by PWD. The sloping wetland, teamed with two underground slow-release detention systems located beneath existing baseball and soccer fields, more than doubled the planned capture for the project by creating 38 greened acres—or one million gallons of stormwater capture and treatment during a two-inch rainfall event.
The project has received the following awards: Governor's Award for Environmental Excellence in Pennsylvania; and Best of Green City, Clean Waters Public Project for the Sustainable Business Network of Greater Philadelphia's Excellence in GSI Awards.