Bridge Replacement – County Route 518 Over D&R Canal 
Bridge Replacement – County Route 518 Over D&R Canal 
JMT designed a replacement for a severely deteriorated bridge in the Garden State.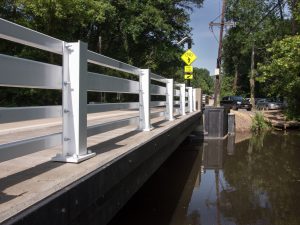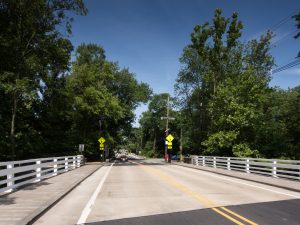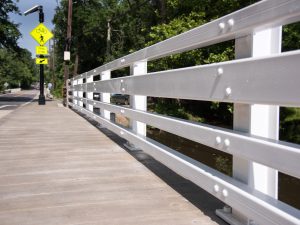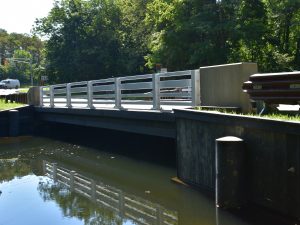 During an interim inspection of a bridge on County Route 518 over the Delaware & Raritan (D&R) Canal by the New Jersey Department of Transportation (NJDOT), severe deterioration of the web plates was identified on several stringers of the three-span, simply-supported steel beam and timber deck structure. The webs were temporarily shimmed with timber cribbing to prevent web crippling. NJDOT approached JMT as part of our statewide emergency services design contract to perform an emergency inspection, including underwater inspection, and design a durable replacement bridge on an accelerated basis. The existing 65-year-old bridge, which is adjacent to the Trap Rock Quarry in Franklin Township, had not been rehabilitated since 1984, except for the wingwalls being replaced.
JMT designed a single-span, prestressed, concrete-voided slab structure with a concrete deck. The substructure consisted of drilled concrete shafts that supported precast concrete abutment cap beams. Our team coordinated with the D&R Canal Commission as part of the project. Architectural features were incorporated into the design to mimic the existing bridge, including black plastic facades on the bridge fascia beams, stamped concrete sidewalks with timber board and bolt head fasteners, concrete tinting of the deck sidewalks and bridge pylons, white four-bar open steel bridge railing, and brown powder-coated guiderail. A striped pedestrian crossing with a solar-powered rectangular flashing beacon was installed to provide pedestrian and bicycle safety for path users.
The bridge was completed on a fast-tracked schedule.