Stevens Park Master Plan
With the help of extensive community feedback, JMT designed the master plan for a new, multi-purpose neighborhood park.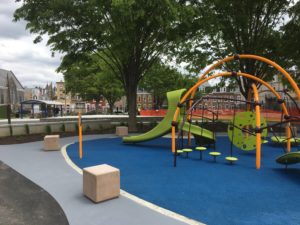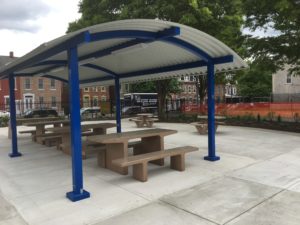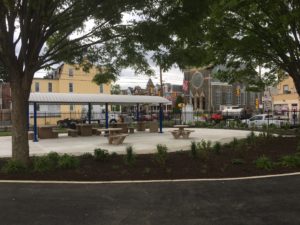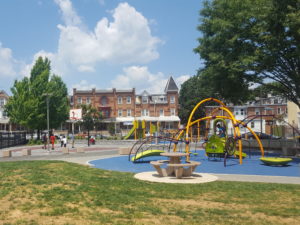 JMT provided planning, design, and construction oversight for this award-winning urban park that has revitalized a downtown neighborhood, taking a previously under-supported site and turning it into a local destination. JMT worked extensively with the community to develop a park that met its needs and budget.
JMT worked with the City of Allentown and community stakeholders to develop a master plan and park design and to provide guidance and recommendations for the City's revitalization and re-investment efforts in the Old Fairgrounds Historic District. JMT gathered input from the community by facilitating a public meeting, conducting key stakeholder interviews, and meeting with City officials on a regular basis.
We presented an exercise that allowed attendees to narrow down the best park features for the project budget. JMT provided attendees with a deck of playing cards, each labeled with different park facilities or features and the associated costs, challenging attendees to build their "best hand." JMT used the results of the exercise to shape the master plan and create an ADA-compliant and balanced park design; providing design and guidance for park elements such as playgrounds, a half-court basketball court, seating, pavilion, security improvements, and a raised platform for entertaining.
Once completed, the master plan and design became the City's and JMT's foundation for final design, and construction documents to create a renovated park that enhances its urban setting and provides residents with a safe and secure public recreational space.
JMT leveraged the community's input to create a balanced park design reflective of the budget and vision of the neighborhood. The final master plan included a design concept for the park, addressed police monitoring and visibility, and incorporated sustainable unit pavers, resilient playground surfacing made with recycled tires, and native plants. The park's design focused on active, casual recreation for socializing and relaxing, showcasing a mix of bright colors and paving patterns to create zones within the park. Within the zones of the Park, specific facilities were added to reflect the community's priorities for the space. In addition to the master plan and design, JMT continued their partnership with the City of Allentown and provided engineering and landscape architectural services to finalize the park design.
JMT supported the City as it secured funding from Federal Community Development Block Grants and the state Department of Conservation and Natural Resources. JMT created construction plans that included a basketball court, stage, pavilion, picnic tables, green space, and playground equipment. The park now serves as a safe area for kids and families. The appealing modern design and green space among historic buildings makes it a focal point for the area.