Waterfront and Underwater Inspections of Bulkheads and Bridges
Waterfront and Underwater Inspections of Bulkheads and Bridges
Barr & Prevost provided NBIS condition inspections of harbor bulkheads and five bridges in Cleveland.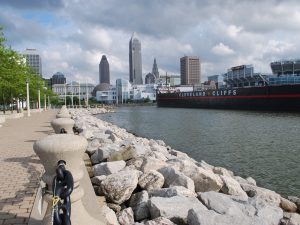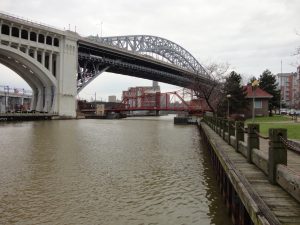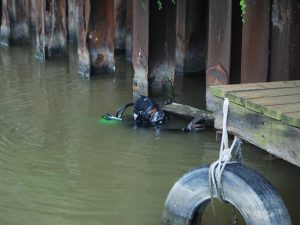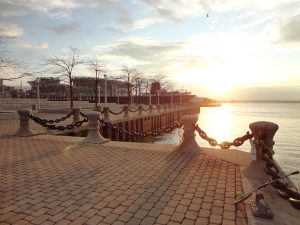 Barr & Prevost, a JMT Division, provided the waterfront inspection of the North Coast Harbor Bulkheads and the underwater inspection of five bridges (Willow Avenue Lift Bridge, Center Street Swing Bridge, Carter Road Lift Bridge, Eagle Avenue Lift Bridge, and West 3rd Street Lift Bridge) by dive methods, culminating with NBIS dive inspection reports for each bridge.
Barr & Prevost conducted the inspection with two divers to complete the hands-on inspection and measurements. Any deterioration was noted, photographed, and measured. The bulkheads and round fenders were investigated for section loss and out-of-plane orientation. The moorings were sounded and section loss measurements recorded. The data collected were used for the structural analysis for capacity and structural integrity of each system.
Scour was evaluated along the bulkheads (in conjunction with probing survey elevations) and obtained along the top of walls and on the main bridge structural components, such as the piers and abutments, to determine if any settlement had occurred over the life span of the structure. Channel sections were completed on a boat with sonar GPS equipment. A river bottom contour was developed to establish a base map.
In addition to National Bridge Inventory Standards (NBIS) inspection reports, Barr & Prevost provided full inspection reports that commented on the condition of the bulkheads, the four rows of round piling (fender system) and reinforced concrete cap beam (mooring), and the adjacent retained facilities, and visible portions of the pilings and bulkheads above the waterline of the East 9th Street Pier and Pier 32. All reports were prepared in accordance with the reporting guidelines and standards of the NBIS, Federal Highway Administration, and Ohio Department of Transportation.
Barr & Prevost conducted inspections safely, efficiently, and cost-effectively to avoid impacts on freighter traffic on the Cuyahoga River.