Owings Mills Boulevard
JMT designed a two-mile-long new roadway extension through an existing residential community while avoiding sensitive environmental features.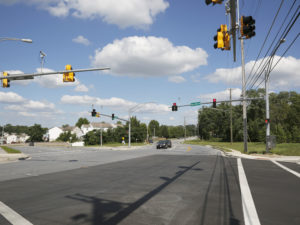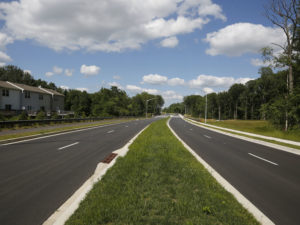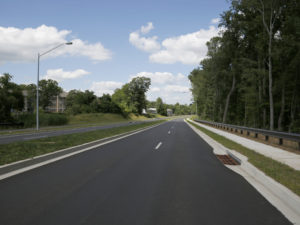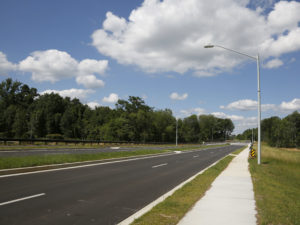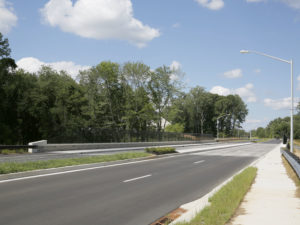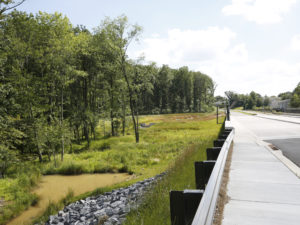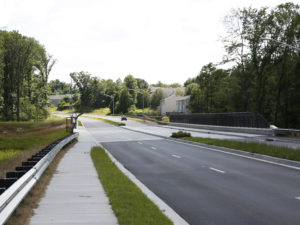 Owings Mills Boulevard needed to be extended to properly connect the area's communities. Drivers were forced to wind through residential neighborhoods, relying on creative traffic patterns to travel between schools, retail centers, and the local commuter rail station. Baltimore County sought to provide an extension to connect these districts directly and create a safer, quicker way to travel. Due to the large scope of the project, the new Owings Mills Boulevard extension – more than two miles long – was completed in two phases. Owings Mills Boulevard now provides a direct north-south arterial connection and safe access for pedestrians and bicyclists.
Phase I
JMT completed the contract documents for the roadway extension's first phase, 1.2 miles in length, in fewer than six months. Because the new roadway was going to be constructed through an existing residential community, it was important to avoid sensitive environmental features. Our design incorporated more than 2,800 new trees, shrubs, and other environmentally-friendly plantings as well as a multi-use bicycle path. Aesthetics included bridge treatments, textured and colored screen walls adjacent to residences, and decorative inlays on crosswalks.
The project came in $1 million under budget.
Owings Mills Boulevard Phase I received an Honor Award from ACEC/Maryland, a Modal Award from the Maryland Quality Initiative, and an Award of Merit from the County Engineers Association of Maryland.
Phase II
The second phase of the project involved the design of more than 0.80 miles of new roadway, extending from Liberty Road (MD 26) to Winands Road, and more than 2,000 LF of improvements along Liberty Road. The new Owings Mills Boulevard is a four-lane divided section and includes a bridge over Scotts Level Branch, with facilities on both sides for pedestrians and bicyclists.
As with Phase I, for Phase II we completed the design, contract documents, and bid and construction phase services. More than 6,600 LF of storm drain and 100 storm drain structures were designed, as well as architectural treatments throughout the corridor, including a new community entrance sign for the Kings Park Estates community.
We coordinated extensively with SHA to obtain access management permits for improvements along Liberty Road. We also coordinated with Baltimore County and BGE for the incorporation of more than 4,000 LF of water main and more than 8,000 LF of conduit for future roadway lighting, as well as Columbia Gas for the relocation of two 20-inch transmission mains. Additionally, JMT provided all vacuum excavation utility test pits for utility locating, which was key to staying on budget and schedule. We prepared joint permits covering the entire Owings Mills Boulevard southern extension (both phases), including wetland mitigation design and stream restoration and mitigation. JMT also prepared a forest stand delineation and forest conservation plan for the project.
The entire Owings Mills Boulevard project received the Outstanding Civil Engineering Achievement Award (Over $20 Million) from the American Society of Civil Engineers Maryland Section.